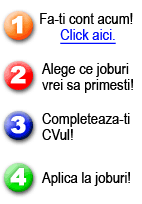 Candidatii eJobs pot alege daca CVul lor este:
CONFIDENTIAL, PUBLIC sau daca este disponibil doar clientilor eJobs.
CVul de pe acesta pagina este public (fara date de contact insa). CVul Public ii ofera candidatului mai multe oportunitati de a fi gasit si contactat de potentiali angajatori. CVurile disponibile doar clientilor eJobs au un format mai complex, contin mai multe informatii si sunt mult mai detaliate.
Candidatii eJobs isi pot schimba in orice moment disponibilitatea CVului.
Daca sunteti firma si doriti sa contactati candidatul de mai jos, trimiteti-ne aceasta cerere la Contact@ejobsgroup.ro, alaturi de linkul catre aceasta pagina.
Unul din Relationship Managerii eJobs o sa va contacteze in maxim 24 de ore si o sa va ofere datele de contact DOAR dupa ce candidatul isi exprima acordul in acest sens.
Curriculum Vitae

informatii personale

M 24.11.1991

Stagiu militar: da

obiectiv

Young Professional with international experience looking for jobs in FMCG industry, start-ups, finance, digital marketing and consulting.



Salariu: 5.000,00 USD / luna

Tip job: Full time

Departament: Vanzari, Marketing, Internet / e-Commerce, Inginerie, Banci, Management

Oras de lucru: Bucuresti, Brasov

Nivel Cariera: Mid-Level (2-5 ani)

Disponibil: oricand

experienta profesionala

01.01.2017 - prezent

Departament: financiar / contabilitate

Titlu Job: budgeting and reporting executive

Responsabilitati:

- Timely and accurate preparation, consolidation and review of monthly operating expenses.
- Timely placement and management of purchase orders (PO's) in adherence to PMI procedures
- Proposed and improved the process of invoice codification in order to avoid overdue invoices
- Consolidation, analysis, and monitoring operating budgets: coordinate with budget owners to collect information, analyze inputs received and ensure alignment with commercial plans
- Perform ad-hoc financial/commercial analysis
- Preparing commercial reports
- Daily SAP operations (analyzing PO's, remaining amounts, vendor invoices)
- Aware of most of the financial processes in the Risk Reduced Products department (payment flow & procurement)
- Perform monthly financial reconciliation on the replacement process and propose improvements to ensure the highest data quality

01.01.2016 - 31.07.2016

Departament: vanzari

Titlu Job: business developer associate

Responsabilitati:

- Developed a lead generation tool and process that increased lead generation by 400%
- Managing sales pipeline through Salesforce
- Daily phone calls with prospective clients
- Effectively communicating Smaato's value via emails, cold calls, and online demonstration
- Provide effective programmatic solutions via our RTB ad exchange to boost revenue from mobile traffic

01.07.2014 - 31.07.2015

Departament: internet / e-commerce

Titlu Job: business developer

Responsabilitati:

- Conducted research to obtain contact information, determine valid competitors and initiated contact with strategic partnerships for business development
- Developed relationships with third-party vendors including debt collection agencies, legal companies, banks and regulators
- Supported the Romanian country manager in developing the customer journey and the technical processes of online financial products
- Developed a comprehensive resource leveraging plan for an automated debt collection company in Poland

studii

Facultati:

2011 - 2014 Facultate: Economie Globala & Management la Jacobs University din Bremen. Jacobs University is a private university located in Bremen. It is one of the most international universities in Germany, characterized by a truly intercultural community.

Jacobs University is a research-oriented, state-accredited university with a broad portfolio of undergraduate and graduate study programs from the natural and social sciences to engineering and economics. All programs are taught in English. At Jacobs University, class sizes are small, professors act as individual personal mentors and academic advisors to students.



Pagini: 1 2 3 4 5 6 7 8 9 10 11 12 13 14 15 16 17 18 19 20