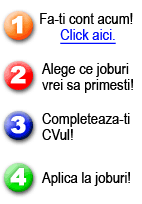 Candidatii eJobs pot alege daca CVul lor este:
CONFIDENTIAL, PUBLIC sau daca este disponibil doar clientilor eJobs.
CVul de pe acesta pagina este public (fara date de contact insa). CVul Public ii ofera candidatului mai multe oportunitati de a fi gasit si contactat de potentiali angajatori. CVurile disponibile doar clientilor eJobs au un format mai complex, contin mai multe informatii si sunt mult mai detaliate.
Candidatii eJobs isi pot schimba in orice moment disponibilitatea CVului.
Daca sunteti firma si doriti sa contactati candidatul de mai jos, trimiteti-ne aceasta cerere la Contact@ejobsgroup.ro, alaturi de linkul catre aceasta pagina.
Unul din Relationship Managerii eJobs o sa va contacteze in maxim 24 de ore si o sa va ofere datele de contact DOAR dupa ce candidatul isi exprima acordul in acest sens.
Curriculum Vitae

informatii personale

obiectiv

Salariu: nespecificat

Tip job: Full time

Departament: Marketing, Management

Oras de lucru: Bucuresti

Nivel Cariera: Mid-Level (2-5 ani)

Disponibil: oricand

experienta profesionala

01.05.2017 - prezent

Departament: marketing

Titlu Job: digital project manager

Responsabilitati:

Main responsibilities:
- Creating website briefs and coordinate dev team to implement project
- Coordinating CRM Implementation with our partner
- Coordinating Mobile App implementation with our partners
- Devising strategies to drive online traffic to the company website.
- Tracking conversion rates and making improvements to the website.
- Developing and managing digital marketing campaigns
- Utilising a range of techniques including paid search, SEO and PPC.
- Overseeing the social media strategy for the company.
- Managing online brand and product campaigns to raise brand awareness.
- Managing the redesign of the company website.
- Improving the usability, design, content and conversion of the company website
- Responsibility for planning and budgetary control of all digital marketing
- Evaluating customer research, market conditions and competitor data.
- Review new technologies and keep the company at the forefront of developments in digital marketing.​
- Implement GDPR regulations for all McDonald's online channels: website, mobile app
- Managed server relocations for all our products (website, mobile app)

01.11.2012 - prezent

Departament: marketing

Titlu Job: digital project manager

Responsabilitati:

• Manage delivery of multiple simultaneous projects working with cross-functional teams
• Responsible for feasibility studies, defining project specifications, time plan, budget and financial controls, deliverables and project acceptance.
• Responsible with project status and steering meetings with project stakeholders and sponsors
• Maintain accurate timelines, project plans, financials and hours budgeted tracking for project deliverable and key milestones
• Assist in managing internal resources, ensuring projects are appropriately staffed
• Work with the web development team (programmers, copywriter, graphic designer and 3PPs companies) to ensure that marketing projects and programs are accurately reflected on our website and that all required lead acquisition components are fully in place
• Collect information and data to produce consolidated monthly campaign metrics. This includes reporting on trials, web traffic, and direct mail results
• Responsible for creating and implementing newsletters, banners, marketing campaigns, Facebook Ads, Google AdWords and TV campaigns within the given budget.
• Defining and monitoring digital and social media campaigns financial control.

01.11.2011 - 31.10.2012

Departament: relatii clienti / call center

Titlu Job: major accounts customer support representative at okazii.ro

Responsabilitati:

• Handling major ocazii.ro customer requests, questions and escalations
• Monitoring forum messages and Facebook content
• Communicate and coordinate with internal departments, Sales, Technical Department, Marketing

01.05.2009 - 30.09.2011

Departament: administrativ / logistica

Titlu Job: project management officer

Responsabilitati:

• Ensure project management standards are followed
• Gathering of project data and production of information for management review
• Implemented several Google AdWords, Facebook Ads and SEO campaigns for various online projects. Monitoring digital and social media campaigns budgets.
• Monitor clients' online advertising campaigns performance, proposing ways to optimize the campaigns in order to improve the results. Responsible for issuing and presenting monthly campaign reports for partners
• Responsible for bookkeeping, financial transactions records management: issuing invoices, payments for the partners, vendors and payroll, recording contracts and organize them according to the internal procedure
• Responsible for human resources documentation and process: assisting in the recruitment process, posting jobs, schedule interviews and organize documentation, communicate with the Accounting and HR Manager regarding the hiring procedures and processes

studii

Facultati:

2013 - 2015 Masterat: Marketing Online la University of Economical Studies din Bucuresti.



Pagini: 1 2 3 4 5 6 7 8 9 10 11 12 13 14 15 16 17 18 19 20