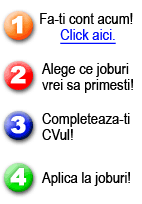 Candidatii eJobs pot alege daca CVul lor este:
CONFIDENTIAL, PUBLIC sau daca este disponibil doar clientilor eJobs.
CVul de pe acesta pagina este public (fara date de contact insa). CVul Public ii ofera candidatului mai multe oportunitati de a fi gasit si contactat de potentiali angajatori. CVurile disponibile doar clientilor eJobs au un format mai complex, contin mai multe informatii si sunt mult mai detaliate.
Candidatii eJobs isi pot schimba in orice moment disponibilitatea CVului.
Daca sunteti firma si doriti sa contactati candidatul de mai jos, trimiteti-ne aceasta cerere la Contact@ejobsgroup.ro, alaturi de linkul catre aceasta pagina.
Unul din Relationship Managerii eJobs o sa va contacteze in maxim 24 de ore si o sa va ofere datele de contact DOAR dupa ce candidatul isi exprima acordul in acest sens.
Curriculum Vitae

informatii personale

M 19.07.1976

Permis conducere: Cat.B, Data obtinerii:30.09.1997

Stagiu militar: nu

obiectiv

Tip job: Full time

Departament: Altele, Publicitate, Grafica / Webdesign / DTP, Educatie / Training / Arte, Internet / e-Commerce, Tipografii / Edituri, IT Software, Banci, Crewing / Casino / Entertainment

Oras de lucru: Bucuresti

Nivel Cariera: Mid-Level (2-5 ani)

Disponibil: oricand

experienta profesionala

01.03.2016 - prezent

Departament: marketing

Titlu Job: marketing specialist

Responsabilitati:

- Design and manage newsletters, create content for presentations, whitepapers, banners, event support materials and brochures
- Create, test and deploy email marketing and marketing automation campaigns, tracking and measuring results
- Produce and manage content for landing pages and email templates

01.01.2015 - prezent

Departament: marketing

Titlu Job: marketing automation consultant

Responsabilitati:

- Devise and deploy marketing campaigns and programs with IBM EMM (Unica) and IBM Tealeaf
- Design multi-wave and multi-channel marketing campaigns
- Contribute with business analysis to ongoing projects

01.05.2014 - 31.10.2014

Departament: it software

Titlu Job: it project manager

Responsabilitati:

Main Responsibilities:
- Creation of business specifications
- Coordination of IT requests
- Monitoring the ticketing system and making sure the tickets are updated and pushed forward
- Testing activity coordination

01.12.2012 - 01.05.2013

Departament: it hardware

Titlu Job: project manager

Responsabilitati:

Coordination and management of multiple projects, responsible for the overall outcome; mixing the plan driven, waterfall methodology with the iterative, agile approach to deliver tailor-made solution
Being the liaison between the production team, customer and upper management / point of communication with stakeholders

Realizari:

An integrated hardware and software solution for smart homes, a complete range of highly aesthetic and innovative products, built with the "Green Living Solution" in mind

01.11.2007 - 01.12.2012

Departament: internet / e-commerce

Titlu Job: project manager

Responsabilitati:

Main Responsibilities:
Project Coordination
- Coordination of NameDrive's technical team's activity, team which handled daily tasks ranging from elaborating and maintaining the software and the database and its documentation to code revision, newcomers' training and handling all level incidents
- Maintenance and development of www.namedrive.com
- Planning and supervision of new internal or external projects; being the liaison between the Business and Tech Departments
- Producing project status reports
- Working closely with all other departments to improve processes and turnaround times
- Responsible for monitoring the internal bug tracking system; issue follow-up until completion
- Personnel and Office Administration: timesheet reports for all NameDrive Romanian office employees, acting as point of contact for any information request from banks, accountants, for external parties such suppliers and distributors, and other outside institutions and companies
Main projects:
- the development of a new, proprietary framework
- a dynamic Template Rotation System
- Billing Transactions administration tool
- Newsletter administration tool
- General Template Layout and over 100 templates (for handling Google Ads)

08.04.2005 - 01.11.2007

Titlu Job: atm network administrator

Responsabilitati:

:
- Maintaining and expanding the Bank's ATM network
- Providing efficient and high quality customer service and responsible for overall strategy of the functionality of bank's ATM network
- Liaise with card processor(First Data), MasterCard, ATM service providers (Romsys, G4S) and IT Department
- Monitoring specific KPIs
- EOD procedure: ATM balancing, reconciliation, chargebacks/reversals, supervising the cash flow and ATM replenishment, investigation of the differences
- Creating new procedures and updating the existing ones, generating daily/weekly/monthly reports, P&L statements, quality dashboard
- Act as ATM Administrator (admin card user, recovered cards investigation and handling, transaction log and ATM journal monitoring, etc)

Realizari:

Projects/Achievements:
- expanding the bank's ATM network from 2 to over 35 units, on and off site
- handling the denomination process and all changes that were required when switching from ROL to RON
- managing projects involving enhancements on self service terminals
- new contracts negotiation (maintenance & service, location, etc)

01.04.2002 - 01.04.2005

Titlu Job: atm & pos network administrator

Responsabilitati:

Main Responsibilities:
- Ensure the full time functionality of all the bank's ATMs and POSs located in the Bucharest area, managing on and off site ATM locations
- ATM prevention and remediation maintenance for the bank's ATMs
- Assisting the ATM service provider (SERVUS) for all physical installations, ATM and POS malfunction, maintenance or other technical interventions
- Captured cards collection, handling and configuring money canisters, cash and supplies replenishment for each machine, generating daily/monthly reports and intervention sheets
- Full time liaise with Central Technical Department located in Cluj-Napoca, point of contact for all ATM and POS related issues, both internal and external

01.03.2000 - 06.04.2002

Departament: it software

Titlu Job: graphics designer/dtp

Responsabilitati:

Main Responsibilities:
- design and execute logos and page layouts for newspapers, books, brochures, and other items that had to be printed or put online
- website content update

studii

Facultati:

1995 - 2000 Facultate / Colegiu: Faculty of Foreign Languages and Literatures la "Spiru Haret" University din Bucharest.
1991 - 1995 Liceu: Mathematics and Physics section la "Alexandru Ioan Cuza" High School din Alexandria.



Pagini: 1 2 3 4 5 6 7 8 9 10 11 12 13 14 15 16 17 18 19 20