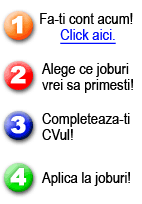 Candidatii eJobs pot alege daca CVul lor este:
CONFIDENTIAL, PUBLIC sau daca este disponibil doar clientilor eJobs.
CVul de pe acesta pagina este public (fara date de contact insa). CVul Public ii ofera candidatului mai multe oportunitati de a fi gasit si contactat de potentiali angajatori. CVurile disponibile doar clientilor eJobs au un format mai complex, contin mai multe informatii si sunt mult mai detaliate.
Candidatii eJobs isi pot schimba in orice moment disponibilitatea CVului.
Daca sunteti firma si doriti sa contactati candidatul de mai jos, trimiteti-ne aceasta cerere la Contact@ejobsgroup.ro, alaturi de linkul catre aceasta pagina.
Unul din Relationship Managerii eJobs o sa va contacteze in maxim 24 de ore si o sa va ofere datele de contact DOAR dupa ce candidatul isi exprima acordul in acest sens.
Curriculum Vitae

informatii personale

M 03.02.1978

Permis conducere: Cat.B, Data obtinerii:22.12.1996

Stagiu militar: nu

obiectiv

With 7 years of digital experience, I have build end-to-end e-commerce solutions in multiple industries that have driven growth and improved the customer experience, being specialized in e-commerce, web project management, UX/UI, marketing (inbound and outbound), online business development, branding and sales. I also designed and managed projects like crm, task management, marketplace platforms, development and implementation of a new retail storefront and managed the overall strategy for multiple companies, customer acquisition and pricing policy.



Salariu: nespecificat

Tip job: Part time, Full time, Proiect / Sezonier

Departament: Marketing, Internet / e-Commerce, Import - export, Management

Oras de lucru: Bucuresti, Brasov, Cluj-Napoca

Nivel Cariera: Manager / Executiv

Disponibil: oricand

experienta profesionala

01.02.2011 - 01.05.2013

Departament: internet / e-commerce

Titlu Job: marketing & online manager

Responsabilitati:

- Strategist and business developer of v.2 eCommerce business www.ujmag.ro;
- PM for all company websites, including one ecommerce webstore (www.ujmag.ro), 3 publishing houses, 7 law magazines; 1 law collection website; I also made the concept, wireframe, UI, UX;
- Driving business performance by restructuring and optimizing processes, and implementing technology solutions with rapid ROI;
- Management role for two departments;
- Managing multi-brand web store, multichannel functionality and operations, Managing all aspects of online retail operations including online marketing, web experience, technology, branding strategy, marketing strategy, SEO, UI/UX architecture, customer service;
- Turning around ecommerce business by revitalizing marketing, acquiring customers, improving web customer experience and growing revenue;
- PM for developing an internal Task Manager application;
- Concept and conduct marketing campaigns and evaluate the market impact;
- Key strategic advisory for redefining core business strategy;
- Member of negotiation team who contract and bring for the first time in Romania and Rep. Moldavia as exclusive distributor the computer certifications EIPASS from Certipass SRL;
- Support for sales dpt.
- Assures consistent communication of image and position;
- Responsible with design, production and distribution plan for all company's publications including flyers, catalogues, ads;
- Monitors the trends and make recommendations;
- Support for marketing events.
- Develops short and long term plans & budgets for the marketing/communications program, monitors progress, assures adherence and evaluates performance;
- Ensures that all relevant procedures and evaluation systems are in place and reports progress of goals achievement to the top management;
- Collaborates with top management to develop and maintain a strategic perspective in organizational direction, program, services and decision-making;
- Develops and coordinates means in order to get regular input regarding the quality of programs and services;
- Acts as internal consultant to bring relevant priorities into attention and to give best development solution;
- Evaluates individual & team performance, delivers specific training, supervises, supports and develops the team;
- In charge with recruitment & selection of new team members for my department;
- Builds and maintains a positive work environment;
- Social media management.

MEASURABLE ACHIVEMENTS AFTER LAUNCHING WWW.UJMAG.RO V.2. 2012:
- Awards: No. 1 - Best Online Merchant for the "Books & Magazines Category", Romanian eCommerce Awards, GPEC 2012 - www.ujmag.ro (second place: www.elefant.ro)
- Increase sales with avg. 10%/mounth (1 mil. lei);
- Increase CTR rate with 8%/6m;
- Increase new customers achivements with 30%/6m, and new accounts created;
- Decrease bounce rate with avg. 9%/6m;
- The better webstore UX has decreased also the abandonment cart rate.

01.02.2010 - 01.02.2011

Departament: marketing

Titlu Job: online marketing specialist for nikon romania

Responsabilitati:

- Strategist and developer for the web marketing plan;
- Create the first social media community for Nikon brand in Romania; - Create and implement online marketing plan and social media strategy;
- Manage, develop and grow the social media channels and community
- Analyze online conversations and participating for building relationships and engagement
- Analyze the competition, trends in social media and online marketing.
- Monitor the traffic, reports, GA analysis
- Propose strategies and marketing campaigns
- Create and implement a strategic plan for email marketing program
- Ensuring all SEO and SEM opportunities are maximized and proper
- Implement and manage Nikon Europe online marketing campaigns, as "I AM" campaign
- Member of the team who develop Q4 company business development plan
- Counseling role in development and implementation of outbound and inbound marketing campaigns, including events
- Customer profile analysis, behavioral segmentation

ACHIVEMENTS:
- Increasing online social media presence for Nikon brand. Have to take into consideration that the social media in our country (facebook, flikr, twitter, youtube) was at its start, there was no critical people mass;
- 10k fans achieved on facebook from none;
- Riched a very good and positive level of interaction in social media between fans (clients and prospects) and brand.

01.06.2009 - 01.01.2010

Departament: internet / e-commerce

Titlu Job: online business consultant

Responsabilitati:

I have had a few projects togheter as frelancer in development of company websites, ecommerce websites with role in:
- Solutions for online business development
- Consultancy in e-commerce, marketing (inbound, outbound), communication, social media, SEO, project management.
- eCommerce audit, UI, UX
- Business analysis, strategic planning
- Online branding

01.05.2009 - prezent

Departament: management

Titlu Job: owner

Responsabilitati:

- craftmall.ro is a wholesaler for art, hobby, and creative products and an online retailer of most important international top brands from this industry;
- Oversaw all aspects of business management and development, ecommerce operations (branding strategy, marketing & sales strategy, SEO, UI/UX arhitecture), social media, import-exports procedures, acquisitions, trends, competition.
- in 2013 launching the first brick and mortar store;
- in 2014 redefining the online strategy and growing the turn over with 105%;
- in 2014 making the actually web store design;

ACHIVEMENTS:
- Awards: No. 1 - Best Online Merchant for the "Office Supplies Category", Romanian eCommerce Awards, GPEC 2010;
- In 2014: increase sales with avg 105% (vs 2013);
- Increase also the CTR, new customers, new accounts, better bounce rate;
- Decrease the abandonment cart rate, the new customer acquisition cost;

01.02.2008 - 01.01.2009

Departament: internet / e-commerce

Titlu Job: business development manager

Responsabilitati:

- Concept and project management for an eCommerce bookstore: www.ujmag.ro (v.1) - first online bookstore specialized in law industry launched in oct.6, 2009;
- Role in developing site structure, architecture, UX/UI, branding, copywriting, setting-up workflows, policies.
- Contract negotiations.
- Develop and implement online marketing strategy, sales strategy, communication strategy
- Member of team who establish and implement short and long-range goals.
- Analyze and evaluate the effectiveness of methods, costs, and results
- Analyze and monitor the competition and the market trend
- Propose new development solutions and methods
- Perform basic SEO strategy
- Analyze web traffic
- Support for new customer acquisition, drive sales and sustain the activity.

ACHIVEMENTS:
- Awards: no.3 - Bookstores Category, Romanian eCommerce Awards, GPEC 2009

01.02.2001 - 01.02.2008

Departament: altele

Titlu Job: other jobs

Responsabilitati:

In addition, another 10 years work experience at non managing level in other areas as legal, production, customer support, logistics, warehousing, sales, also in international and multicultural environment.

studii

Facultati:

2005 - 2006 Masterat: LL.M., second level, "European Private Law" la  University of Studies "La Sapienza", Rome, Italy din Rome (Italy).
2004 - 2005 Facultate / Colegiu: Faculty of Economical Science – specialization: Finance la European University Dragan din Brasov. in 2005 the Faculty was closed
2002 - 2003 Facultate / Colegiu: Faculty of Political Science la University of Studies of Urbino din Urbino (Italy).
1996 - 2000 Facultate / Colegiu: Faculty of Law la G. Baritiu" University din Brasov.



Pagini: 1 2 3 4 5 6 7 8 9 10 11 12 13 14 15 16 17 18 19 20