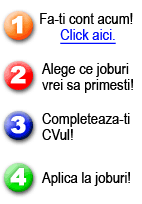 Candidatii eJobs pot alege daca CVul lor este:
CONFIDENTIAL, PUBLIC sau daca este disponibil doar clientilor eJobs.
CVul de pe acesta pagina este public (fara date de contact insa). CVul Public ii ofera candidatului mai multe oportunitati de a fi gasit si contactat de potentiali angajatori. CVurile disponibile doar clientilor eJobs au un format mai complex, contin mai multe informatii si sunt mult mai detaliate.
Candidatii eJobs isi pot schimba in orice moment disponibilitatea CVului.
Daca sunteti firma si doriti sa contactati candidatul de mai jos, trimiteti-ne aceasta cerere la Contact@ejobsgroup.ro, alaturi de linkul catre aceasta pagina.
Unul din Relationship Managerii eJobs o sa va contacteze in maxim 24 de ore si o sa va ofere datele de contact DOAR dupa ce candidatul isi exprima acordul in acest sens.
Curriculum Vitae

informatii personale

M 01.09.1989

Permis conducere: Cat.B, Data obtinerii:11.01.2008

Stagiu militar: nu

obiectiv

Tip job: Full time

Departament: Vanzari, Relatii publice, Altele, Educatie / Training / Arte, Tipografii / Edituri, IT Software, IT Hardware, Sport / Wellness

Oras de lucru: Bucuresti

Nivel Cariera: Mid-Level (2-5 ani)

Disponibil: oricand

experienta profesionala

01.03.2019 - prezent

Departament: it software

Titlu Job: qa team lead

Responsabilitati:

▪ Establish and document testing methodologies or testing tools.
▪ Establishing and executing team-level quality goals for the product.
▪ Drive implementation of testing processes.
▪ Build and maintain functional and non-functional test suites.
▪ Building and maintaining test plans that are informed by the initiative-level test strategy.
▪ Managing, report, triage and monitor bugs via bug reporting workflow.
▪ Identify and call out risks and quality concerns to product to product or project quality
▪ Find and call out blocking issues.
▪ Partnering with teams to plan and execute tests.
▪ Test & validate stories and tasks within sprints.
▪ Participate in product and process retrospectives and meetings.
▪ Working with the Product Owner and team members to understand user stories and inform quality decisions throughout the project's development lifecycle.
▪ Mentoring Quality Analysts and share knowledge with the rest of the Quality Team at ISoftbet.
▪ Managing communication with outsourced QA teams, overseeing and regularly auditing results.
▪ Coordinating with other project teams to maintain effective and efficient cross-product test coverage.
▪ Signing off on product quality during release process.
▪ Facilitate and oversee the QA work including test plan development, complex testing and reporting on mid- to large-sized projects.
▪ Demonstrate expertise in QA techniques and toolsets.
▪ Develop governance standards for QA organization and publish metrics for continuous improvement to leadership team.
▪ Provide leadership and direction in the development and implementation of test automation architecture and framework.

01.01.2018 - 31.03.2019

Departament: it software

Titlu Job: qa team leader

Responsabilitati:

▪ Developing test strategy and test planning for both pre-production and production
▪ Managing the QA team
▪ Developing QA awareness across the entire team
▪ Planning and implementing QA tools for the development team
▪ QA staff planning, personal development and hiring of new QA members
▪ Regular and reported risk assessments
▪ Performing appraisals and defining personal development objectives and plans with all team members
▪ Creating, tracking and delivering QA schedules for software and firmware projects
▪ Delivering continuous improvement initiatives for system test methodology, processes and tools
▪ Performing testing on applications web based and portable devices
▪ Gathering and reporting software quality progress and metrics to the senior management team, per business needs
▪ Work closely on the deadlines of the project and monitor quality agreed KPIs and criteria.
▪ Perform test plans and test execution reviews for every sprint and provides sign off for every release
▪ Manage installation, inspection, and testing procedures for finished products

01.03.2017 - 31.01.2018

Departament: it software

Titlu Job: senior qa engineer

Responsabilitati:

▪ Analysing software app requirements, obtain clarifications where needed, acquire a complete and detailed understanding of the business logic
▪ Creating/updating test plans/cases based on the specifications provided by the business
▪ Running the assigned test cases for a specific project, investigates and writes tests for reported defects
▪ Writing automation scripts, using automation concepts and platform
▪ Working collaboratively with developers and analysts at all stages of a requirements development to ensure that what is produced is fit for purpose
▪ Thoroughly documenting defects and entering them into a defect tracking system (JIRA)
▪ Configuring the test environment, installing the applications, creating test data
▪ Working with methodology and types of testing (functional, integration, system, regression, automation) and apply them to ensure the above objectives.
▪ Identifying and suggesting process improvements
▪ Working with large SQL databases
▪ Web and mobile testing
▪ Testing by using command line Linux tools
▪ Perform at all test levels (Unit, Integration, System) by all test methods (White box, Black box, Grey-box)
▪ API testing (Postman)
▪ Creating test mediums by using Jenkins

01.03.2016 - 31.03.2017

Departament: it software

Titlu Job: qa analyst

Responsabilitati:

▪ Web and mobile testing
▪ Creates project plans and schedules for testing projects to assure that the ARCHIBUS products meet functional and technical specifications.
▪ Contributes to functional and technical specification reviews, provide feedback and analyze them for completion.
▪ Writes and updates test plans and test cases for complex software based on use cases, functional and technical specifications. Executes test cases.
▪ Logs and tracks discrepancies in the Issue Tracking System. Contributes to the prioritization and progress reporting throughout the complete discrepancy life cycle.
▪ Investigates new tools or technologies as needed. Document results.
▪ Maintains the test lab, which contains machines and disc images for testing applications under different operating systems. Configures the environments with the hardware and software required for testing ARCHIBUS products.
▪ Cross browser testing for HTML files and integration platforms (Chrome, Firefox, IE, Safari Windows, Safari IOs, Opera)
▪ Functional testing, regression testing, localization testing,security testing,configuration testing,crosschecking on multiple configurations.
▪ Writing daily/weekly status reports.
▪ Working with SQL/Oracle databases
▪ Testing the web applications in an Agile strategy.
▪ Review on functional specifications

01.03.2015 - 31.03.2016

Departament: controlul calitatii

Titlu Job: qa specialist at a&d pharma

Responsabilitati:

▪ Develop test plans and test cases
▪ Technical and functional testing of new components , reports , processes defined / modified in accordance with established test methods and standards
▪ Reporting errors using management tools to solve clients problems
▪ Archiving / saving all test scenarios , test plans and documentation related in a secure manner
▪ Verifying developments in order to respect the technical documents / functional set
▪ Working on the test environment in accordance with existing documents
▪ Synchronising with the testing team in order to identify the testing priorities between the components elements in testing at a certain moment and also to identify the belongings of data mining on the testing medium
▪ The achievement and the up to date of the specification associated with end users
▪ The consolidation of testing rapports and maintaining the inventory of the business agenda
▪ The permament repporting on the Manager or on the Teamleader regarding tests levels and their evolution
▪ Working with tools like TFS, VMware, Jira, Test Rail and others
▪ Framing the testing activity in the quality KPI fixed both at a team level and personal level

01.12.2013 - 31.03.2015

Departament: it software

Titlu Job: qa engineer

Responsabilitati:

▪ Raportarea de erori folosind instrumente de gestiune a problemelor si urmareste rezolvarea acestora pentru a aduce produsul in liniile de conformitate
▪ Utilizarea programelor standard pentru Departamentul Calitate Produse Software (JACC, Outlook, Stylus Studio, Snagit, MyBiz CRM, Test Link, si altele)
▪ Studierea specificatiilor functionale si tehnice ale versiunilor in vederea pregatirii testarii
▪ Efectuarea testelor de regresie, testelor de functionare si testelor de date
▪ Efectuarea testelor de validare a datelor folosind scripturi SQL
▪ Efectuarea testelor de validare a datelor folosind baze de date SQL
▪ Crearea cazurilor de testare folosind specificatiile de testare pentru a verifica si revizui calitatea produselor software
▪ Formularea de recomandari pentru implementarea unor noi cazuri de testare
▪ Instalarea/actualizarea si intretinerea produselor software furnizate de Setrio Soft
▪ Generarea analizelor asupra rezultatelor din trecut
▪ Furnizarea instructiunilor de operare cu dezvoltarile noi pentru consultanti sau alti utilizatori ai aplicatiilor
▪ Implementarea produselor software direct la client
▪ Inventarierea periodica a produselor software

14.11.2011 - 16.08.2013

Departament: it hardware

Titlu Job: qa tester

Responsabilitati:

▪ Testarea de jocuri video pe console cum ar fi Xbox One, PS4, Xbox360, PS3 sau Nintendo wii.
▪ Predarea raportului zilnic in ceea ce priveste progresul la sfarsit de program.
▪ Coordonarea permanenta a unui grup intre 10 si 30 de persoane pentru a obtine o eficacitate sporita.
▪ Folosirea zilnica a bazelor de date de urmarire a bugurilor precum the Dev-track, Jira, Hansoft si altele.
▪ Crearea zilnica de Test plan-uri respectiv Test Cases.
▪ Asistent de Lead pentru aproximativ 8 luni.
▪ Experienta in proiecte de anvergura precum FIFA, Medal Of Honor, Battlefield, Star Wars, Need For Speed si altele.

05.10.2010 - 15.05.2011

Departament: achizitii

Titlu Job: operator pc

Responsabilitati:

▪ Prezentarea de diverse oferte clientilor.
▪ Verificarea contractelor clientilor.
▪ Prezentarea unui raport saptamanal in ceea ce priveste activitatea operatorilor.
▪ Coordonarea unui numar de aproximativ 10 agenti pentru a mentine un ritm bun de lucru si pentru a satisface dorintele clientilor.
▪ Inregistrarea contractelor folosint programul Vantive.

20.06.2009 - 04.10.2010

Departament: vanzari

Titlu Job: merchandiser

Responsabilitati:

▪ Monitorizarea modificarilor aparute in stoc si analizarea cifrelor de vanzari, trendurilor, variatiilor regionale sau a cerintelor clientilor.
▪ Promovarea ofertelor speciale, promotiilor si produselor.
▪ Mentinerea evidentei livrarii stocului, asigurand livrarea marfurilor la timp indeplinind de asemenea standardele de calitate impuse.
▪ Monitorizarea activitatii vanzarilor de produse si ajustarea nivelului stocului.
▪ Comunicarea de oferte speciale si initiativelor de marketing retailerilor.

studii

Facultati:

Absolvent al Colegiului Tehnic Traian din Bucuresti, promotia 2008

Student al Universitatii Politehnica Bucuresti

Premii

1) Atestat de competente de operare pe calculator si competente de nivel mediu de programare dobandit in anul 2008.

2) Certificat de absolvire in ceea ce priveste ocupatia(Competente comune) de Project Manager obtinut in anul 2013.


Pagini: 1 2 3 4 5 6 7 8 9 10 11 12 13 14 15 16 17 18 19 20