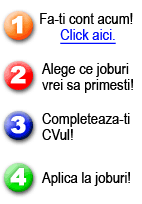 Candidatii eJobs pot alege daca CVul lor este:
CONFIDENTIAL, PUBLIC sau daca este disponibil doar clientilor eJobs.
CVul de pe acesta pagina este public (fara date de contact insa). CVul Public ii ofera candidatului mai multe oportunitati de a fi gasit si contactat de potentiali angajatori. CVurile disponibile doar clientilor eJobs au un format mai complex, contin mai multe informatii si sunt mult mai detaliate.
Candidatii eJobs isi pot schimba in orice moment disponibilitatea CVului.
Daca sunteti firma si doriti sa contactati candidatul de mai jos, trimiteti-ne aceasta cerere la Contact@ejobsgroup.ro, alaturi de linkul catre aceasta pagina.
Unul din Relationship Managerii eJobs o sa va contacteze in maxim 24 de ore si o sa va ofere datele de contact DOAR dupa ce candidatul isi exprima acordul in acest sens.
Curriculum Vitae

informatii personale

M 26.11.1989

Stagiu militar: nu

obiectiv

Gasirea job-ului ideal.



Salariu: nespecificat

Beneficii: Program flexibil.

Tip job: Full time

Departament: Internet / e-Commerce, Telecomunicatii, Transport / Distributie, Inginerie, IT Software, IT Hardware, Auto / Echipamente

Oras de lucru: Bucuresti

Nivel Cariera: Mid-Level (2-5 ani)

Disponibil: oricand

experienta profesionala

01.10.2014 - prezent

Departament: it software

Titlu Job: server and network monitoring specialist

Responsabilitati:

Responsibilities:
• Monitor servers performance and availability;
• Performing administration, management and configuration tasks according to the work instructions;
• Provide metrics for capacity management purposes;
• Event Management (analyze alerts and logs) and Incident Handling;
• Initiate, assess, test, verify, document and quality assure system updates;
• Create and implement change requests for incidents/problems as needed;
• Provide technical assistance and expertise to customer's administrators and SMEs.

Working with: Windows Server, Linux/ Unix, AIX, iSeries AS/400, Citrix XenServer, VMware vSphere ESXi, Veeam Backup & Replication, KVM/QEMU, DB (DB2, Oracle, MSSQL), Enterprise Manager, Control M, SAN.
Network infrastructure, network applications, web servers, email servers, firewalls, databases, file shares and print servers.

01.01.2014 - 01.10.2014

Departament: it software

Titlu Job: it support specialist

Responsabilitati:

• Offering technical support by mail and by phone for a French line of warehouses and IT stores;
• Interacting with client and second level teams, making service requests, ensuring follow-up on tickets, escalating problems and handling several rapports like morning and evening procedures;
• Dispatching mails to other agents by rotation in order for them to take the right action as requested in the emails;
• Analyzing situations, understanding the impact on client business.
Main applications supported and example of tasks:
Active Directory and Windows Server:
• administrating and creating new accounts in Active Directory;
• managing and creating shared folders, email addresses and Security Groups, queries and extractions;
• making sure that applications are synchronized with AD.
Microsoft Outlook:
• handling general issues;
• working with shared mailboxes;
• solving any issues with archives.
AS/400 and JDA
• JDA access management;
• Working with printers, spooled files, user jobs.

01.08.2012 - 01.01.2014

Departament: inginerie

Titlu Job: electronic part leader

Responsabilitati:

Assystem Romania for Renault.

Advanced Driving Assistance Systems Development Team, January 2013 - present
In charge of ADAS Interconnection ECU and the Front Collision Warning Radar mounted on Renault Twingo, Smart For Two and Smart For Four.
MARKETS : US, France, Germany, Italy, UK, Spain, Portugal, Austria.

Multimedia Serial Life Team, March 2013 - October 2013
In charge of Quality Assurance for the LGe navigation system mounted on: Dacia Logan, Sandero, Kangoo and Renault Clio, Captur.
Markets: Brasil, Russia, India, Colombia, Romania and France.

Multimedia Validation Team, October 2013 - present
In charge of Software Validation for the TomTom navigation system mounted on the following vehicles: Megane3 (RS), Clio4(RS), Captur, Laguna, Fluence, Twingo, Koleos, Master, Traffic, Kangoo.
Markets: Brasil, Russia, Germany, Italy, India, Colombia, Romania and France.

Key activities :
- Project Management;
- Development Monitoring;
- Quality Management;
- Product Validation.
- Analyzing different types of E/E architectures;
- Technical coordination between suppliers and customers;
- Technical information research;
- Client management (planning, vehicle and products, internal meetings for project advancement, external meetings with suppliers, technical convergence, etc.).
Prima cazare, Prima Deplasare, Prime Performanta, Bonuri de Masa, Al 13-lea salariu.

studii

Facultati:

Colegiul National Economic, Profil Matematica - Informatica, Rm. Valcea, 2004 - 2008.

Universitatea Politehnica, Facultatea Transporturi, Specializarea Telecomenzi si Electronica in Transporturi, Bucuresti, 2008-2012.

Universitatea Politehnica, Facultatea Transporturi, Master Sisteme Inteligente de Transport, Bucuresti, 2012-2014.

Activitati extracurriculare

Cunostinte: Hardware, Software, Mecanica, Diagnoza, Validare.

Premii

Cursuri Engleza, Franceza, Germana, Arhitecturi Electrice si Electronice, Project Management, Comunicare Tehnica.


Pagini: 1 2 3 4 5 6 7 8 9 10 11 12 13 14 15 16 17 18 19 20