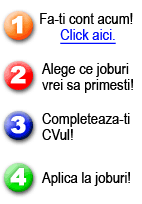 Candidatii eJobs pot alege daca CVul lor este:
CONFIDENTIAL, PUBLIC sau daca este disponibil doar clientilor eJobs.
CVul de pe acesta pagina este public (fara date de contact insa). CVul Public ii ofera candidatului mai multe oportunitati de a fi gasit si contactat de potentiali angajatori. CVurile disponibile doar clientilor eJobs au un format mai complex, contin mai multe informatii si sunt mult mai detaliate.
Candidatii eJobs isi pot schimba in orice moment disponibilitatea CVului.
Daca sunteti firma si doriti sa contactati candidatul de mai jos, trimiteti-ne aceasta cerere la Contact@ejobsgroup.ro, alaturi de linkul catre aceasta pagina.
Unul din Relationship Managerii eJobs o sa va contacteze in maxim 24 de ore si o sa va ofere datele de contact DOAR dupa ce candidatul isi exprima acordul in acest sens.
Curriculum Vitae

informatii personale

| | |
| --- | --- |
| | F 26.05.1993 |

obiectiv

It's the will, not the skill. Hardworking, reliable and punctual, seeking constant improvement and challenges in the information technology and services industry. Interested in working with business clients, on day schedule. Already possessing a good basic technical knowledge and being familiarized with working in a multinational-multicultural environment, I'm willing and ready to learn new, more challenging things in the IT domain.



Salariu: 5.500,00 USD / luna

Tip job: Full time

Departament: Resurse umane / Psihologie, Office / Back-office / Secretariat, Marketing, Internet / e-Commerce, Relatii clienti / Call center, Traduceri, IT Software

Oras de lucru: Bucuresti

Nivel Cariera: Mid-Level (2-5 ani)

Disponibil: oricand

experienta profesionala

01.06.2019 - prezent

Departament: it software

Titlu Job: subject matter expert

Responsabilitati:

-managing the flow of day-to-day operations (including weekly/daily schedule - breaks, absences, annual leaves etc);
- live monitoring of calls and queues;
- creating and sharing daily reports to the team;
- tracking the performance of individuals within the team;
- mapping out training plans (procedures, soft & technical skills), schedules & assessments, designing and developing project specific training programs & materials and delivering new hire and refresher trainings;
- acting as a SPOC for escalations for team members on the floor;
- responding to customer escalations and participating in customer and internal conference calls;
- holding periodic team huddles and one-on-one meetings (and whenever needed);
- drafting and documenting KB/ SOP's based on the current / new processes being followed;
- performing periodic ticket audits and coaching the team members with the purpose of improving work quality and SLAs;
- ensuring KPIs are met as per client SLAs;
- handling major SD incidents and events as per ITIL framework/ performing Event Coordinator tasks;
- performing DSAT, FCR analysis.

01.10.2016 - 31.05.2019

Departament: it software

Titlu Job: service desk analyst with portuguese & spanish

Responsabilitati:

Providing 1st level IT support for the client's (pharma industry) specific applications and programs for Spain and Portugal users via phone, email, chat & self service system;
- handling hardware and software issues and/or requests related to Windows 7/ 10/ R Server 2008, Office 365, network, printers, Ipad & Iphone, VPN, Zscaler, McAfee Pre-boot encryption, Bitlocker, password management, Avaya, Citrix Virtual Machine, Lotus Notes etc;
- Ticket reassignment to appropriate support group where applicable;
-Delivering process-specific training to new hires;
- Mapping out training plans and schedules, designing and developing project specific training programs & materials;
- Supervising and assisting new hires on the floor.
- Acting as a backup event coordinator for managing IT incidents & outages as per ITIL framework, handling password exemption approvals, VIP & Sensitive and new hire password resets, managing escalated/bouncing tickets to ensure speedy resolution & priority increase;
- Performing SME backup role by providing on the floor support to agents on technical and procedural matters, handling CSAT/DSAT reports.

01.10.2015 - 31.10.2016

Departament: relatii clienti / call center

Titlu Job: customer support representative with english & portuguese

Responsabilitati:

Offering technical/after sales support for sports machines such as treadmills, cross-trainers, static bikes & other fitness equipment for domestic use etc;
- direct contact with final customers & retailers from the UK, Ireland and Portugal (John Lewis, Powehouse Fitness, Fitness Superstore, Decathlon, Fitness Boutique, Soltec etc) regarding troubleshooting for the products, orders for spare parts, engineer jobs, maintainance information etc.
- providing shadow support, supervision and on-the-floor support to new hires.

studii

Facultati:

2012 - 2015 Facultate: Foreign Languages (English and Portuguese) la University of Bucharest din Bucharest. Applied study of Portuguese & English language & literature (language structure & evolution, grammar, linguistics, pragmatics, literary concepts, civilization & culture, socio-linguistics, text analysis).
Graduation exam mark: 9,5
2008 - 2012 Liceu / Școală profesională: Philology Intensive- English la National College Spiru Haret din Targu Jiu.


Premii

Calificari
May 2015: English and Portuguese Teaching Certificate/Psycho-pedagogical module, Level 1

Voluntariat
Sep 2011 - Sep 2011: Let's do it, Romania
National environment clean up action.
Proiecte
Mar 2011 - Apr 2011: Euroscola
Euroscola - European Parliament (Apr 2011)
Participation in Euroscola Project, 2011, The European Parliament, Strasbourg, France
Main activities undergone: debates and trainings on European integration themes, at the European Parliament.
Achievements: 2nd place in the national phase of the competition with the high school team & the Euroscola cup in the trivia contest organized at the Parliament.



Pagini: 1 2 3 4 5 6 7 8 9 10 11 12 13 14 15 16 17 18 19 20